Toronto Branch Past Events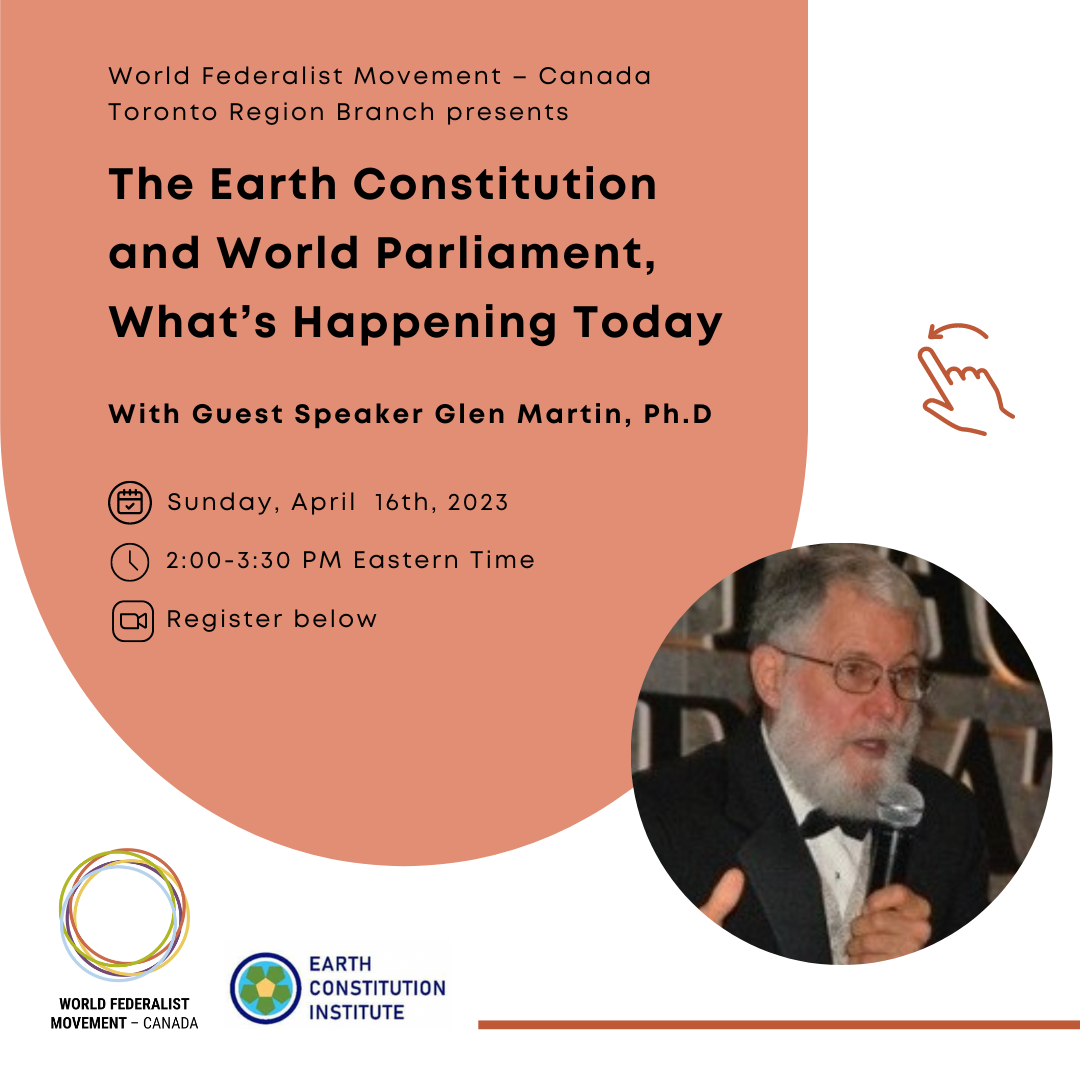 The Earth Constitution and World Parliament: What's happening today?
It has been widely recognized for many years that the current United Nations has shortcomings. Beginning in 1958 the World Constitution and Parliament Association (WCPA) gathered a series of global conferences to draft the "Constitution for the Federation of The Earth". It was first published in 1974. In 1977 a call for ratification by the nations and peoples of Earth was issued, and the Earth Constitution was presented to the UN General Assembly. We recommend you look at the document before the seminar since Dr. Martin will only provide highlights of the Earth Constitution.
The Earth Constitution defines a "Provisional World Parliament" which has met 15 times since 1982, writing 52 "World Legislative Acts". Dr. Martin will discuss what is happening today with this movement and how it relates to other movements aimed at improving global governance.
WATCH THE VIDEO
Previous Events
Voice of the People at the United Nations: Impementing a UN Parliamentary Assembly (Andreas Bummel) Read the event summary.

Reforming International Economic Institutions, For A More Prosperous, Just And Sustainable World Economic Order (Nov 16, 2022 with Peter Venton). See Summary of his presentation and Zoom recording. Also, join our Google Group on "Fixing the Global Economy Through World Federalism" to share your views.

Preventing Armed Conflict: Finding a Better Way with a UN Emergency Peace Service (September 28, 2022 with Peter Langille). See summary of his presentation and the zoom recording

World Federation Through the Gradual Asscension of Willing States (Sept 11, 2022 with Alec Neilly). See summary of his presentation and the zoom recording

Greening the World Economy For A Sustainable Future (April 12, 2022 with Seth Klein) See a summary of his presentation.

What can we do to support Afghanistan? (Jan 19, 2022 discussion following up on a presentation by Corey Levine, Jan 12, 2022, on 'What Can The World Do to Support Afghanistan?' See also a summary of her Jan 12th presentation

Improving Climate Negotiations (Oct 13, 2021 with Christine Peringer)

Canada's UN Peacekeeping (Sept 26, 2021 with Walter Dorn)

A New Collaborative Economic Model (Sept 15, 2021 with Guy Dauncey. See the event recording and a report on the seminar)

Global Climate Accountability (May 18, 2021 with Elizabeth May) See also a summary of her presentation.